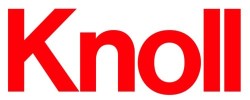 Knoll (NYSE:KNL) was downgraded by Zacks Investment Research from a "buy" rating to a "hold" rating in a research note issued on Wednesday.
According to Zacks, "Knoll Inc, a leading designer and manufacturer of branded office furniture products and textiles, serves clients worldwide. Their commitment to innovation and modern design has yielded a comprehensive portfolio of products designed to provide enduring value and help clients shape their workplaces with imagination and vision. "
A number of other equities research analysts have also commented on the stock. TheStreet raised shares of Knoll from a "c+" rating to a "b-" rating in a report on Friday, November 17th. ValuEngine lowered shares of Knoll from a "buy" rating to a "hold" rating in a report on Friday, February 2nd. Finally, Raymond James Financial raised shares of Knoll from an "outperform" rating to a "strong-buy" rating and increased their price objective for the stock from $23.00 to $26.00 in a report on Tuesday, December 26th. Two research analysts have rated the stock with a hold rating, two have given a buy rating and one has assigned a strong buy rating to the company. The stock presently has an average rating of "Buy" and a consensus price target of $26.00.
Shares of Knoll (
KNL
) opened at $21.95 on Wednesday. The company has a quick ratio of 0.62, a current ratio of 1.31 and a debt-to-equity ratio of 0.61. Knoll has a fifty-two week low of $16.57 and a fifty-two week high of $24.47. The firm has a market cap of $1,104.94, a PE ratio of 13.47 and a beta of 0.98.
Knoll (NYSE:KNL) last posted its earnings results on Thursday, February 8th. The business services provider reported $0.36 earnings per share for the quarter, missing the Thomson Reuters' consensus estimate of $0.42 by ($0.06). Knoll had a return on equity of 20.51% and a net margin of 7.08%. The firm had revenue of $316.10 million during the quarter, compared to the consensus estimate of $302.07 million. During the same period in the previous year, the company posted $0.44 EPS. The firm's revenue for the quarter was up 7.9% compared to the same quarter last year. research analysts expect that Knoll will post 1.74 earnings per share for the current year.
A number of large investors have recently modified their holdings of KNL. Xact Kapitalforvaltning AB bought a new stake in Knoll during the 4th quarter worth about $202,000. Investors Research Corp bought a new stake in Knoll during the 4th quarter worth about $234,000. Gotham Asset Management LLC bought a new stake in Knoll during the 4th quarter worth about $262,000. Stoneridge Investment Partners LLC bought a new stake in Knoll during the 3rd quarter worth about $301,000. Finally, SG Americas Securities LLC grew its holdings in Knoll by 63.6% during the 3rd quarter. SG Americas Securities LLC now owns 15,832 shares of the business services provider's stock worth $317,000 after acquiring an additional 6,156 shares during the last quarter. 90.43% of the stock is currently owned by hedge funds and other institutional investors.
ILLEGAL ACTIVITY WARNING: "Knoll (KNL) Downgraded by Zacks Investment Research to "Hold"" was published by Ticker Report and is the property of of Ticker Report. If you are reading this news story on another publication, it was illegally copied and republished in violation of United States & international copyright law. The legal version of this news story can be viewed at https://www.tickerreport.com/banking-finance/3227020/knoll-knl-downgraded-by-zacks-investment-research-to-hold.html.
About Knoll
Knoll, Inc is a manufacturer of commercial and residential furniture, accessories and coverings. The Company operates through three segments: Office, Studio and Coverings. The Office segment includes a range of workplace products that address workplace planning paradigms. These products include systems furniture, seating, storage, tables, desks and KnollExtra accessories, as well as the international sales of its North American Office products.
Get a free copy of the Zacks research report on Knoll (KNL)
For more information about research offerings from Zacks Investment Research, visit Zacks.com
Receive News & Ratings for Knoll Daily - Enter your email address below to receive a concise daily summary of the latest news and analysts' ratings for Knoll and related companies with MarketBeat.com's FREE daily email newsletter.