Cryolife (NYSE:CRY) is scheduled to announce its earnings results after the market closes on Wednesday, March 7th. Analysts expect the company to announce earnings of $0.11 per share for the quarter.
Shares of Cryolife (NYSE CRY) opened at $19.00 on Wednesday. The company has a current ratio of 5.96, a quick ratio of 4.90 and a debt-to-equity ratio of 0.29. Cryolife has a 52-week low of $14.02 and a 52-week high of $24.00. The company has a market capitalization of $686.67, a PE ratio of 67.86 and a beta of 0.77.
A number of analysts have recently commented on CRY shares. Canaccord Genuity reiterated a "buy" rating and set a $25.00 target price on shares of Cryolife in a research report on Wednesday, January 3rd. Northland Securities reiterated a "buy" rating and set a $23.50 target price on shares of Cryolife in a research report on Monday, November 13th. Finally, Zacks Investment Research upgraded Cryolife from a "sell" rating to a "hold" rating in a research report on Tuesday, January 16th. One analyst has rated the stock with a sell rating, one has assigned a hold rating and three have given a buy rating to the stock. The stock currently has an average rating of "Hold" and an average price target of $24.83.
TRADEMARK VIOLATION NOTICE: This news story was first published by Ticker Report and is the property of of Ticker Report. If you are viewing this news story on another publication, it was illegally stolen and republished in violation of U.S. & international copyright law. The legal version of this news story can be read at https://www.tickerreport.com/banking-finance/3226965/cryolife-cry-set-to-announce-earnings-on-wednesday.html.
About Cryolife
CryoLife, Inc (CryoLife) is a medical device manufacturer and processor, and is engaged in the distribution of medical devices and implantable human tissues used in cardiac surgical procedures. The Company operates through two segments: Medical Devices and Preservation Services. The Medical Devices segment includes medical devices, such as BioGlue Surgical Adhesive, BioFoam Surgical Matrix, On-X Life Technologies Holdings, Inc valves and surgical products, CardioGenesis cardiac laser therapy product line, PerClot and PhotoFix.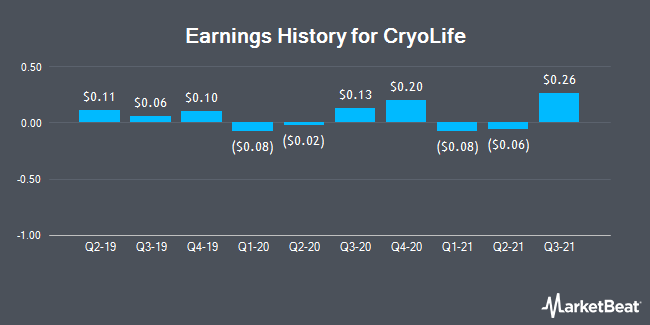 Receive News & Ratings for Cryolife Daily - Enter your email address below to receive a concise daily summary of the latest news and analysts' ratings for Cryolife and related companies with MarketBeat.com's FREE daily email newsletter.