 Leucrotta Exploration (CVE:LXE) had its price target raised by stock analysts at Eight Capital from C$1.30 to C$1.60 in a research note issued on Tuesday. Eight Capital's price objective suggests a potential upside of 5.96% from the company's previous close.
Separately, National Bank Financial upped their price objective on Leucrotta Exploration from C$2.00 to C$2.25 and gave the company an "outperform" rating in a report on Tuesday, January 9th. Two equities research analysts have rated the stock with a hold rating and six have assigned a buy rating to the company. The company has a consensus rating of "Buy" and an average target price of C$2.46.
Leucrotta Exploration (CVE:LXE) traded down C$0.02 on Tuesday, reaching C$1.51. The company had a trading volume of 35,230 shares, compared to its average volume of 109,183. Leucrotta Exploration has a twelve month low of C$1.43 and a twelve month high of C$2.55. The company has a market cap of $306.79, a PE ratio of -50.33 and a beta of 0.83.
Leucrotta Exploration (CVE:LXE) last posted its quarterly earnings results on Wednesday, November 29th. The oil and natural gas company reported C($0.01) earnings per share for the quarter, meeting analysts' consensus estimates of C($0.01). Leucrotta Exploration had a negative return on equity of 2.08% and a negative net margin of 28.53%. The business had revenue of C$5.91 million for the quarter, compared to analysts' expectations of C$5.67 million.
COPYRIGHT VIOLATION WARNING: "Eight Capital Increases Leucrotta Exploration (LXE) Price Target to C$1.60" was posted by Ticker Report and is the property of of Ticker Report. If you are accessing this piece on another site, it was illegally stolen and republished in violation of U.S. & international copyright and trademark law. The correct version of this piece can be viewed at https://www.tickerreport.com/banking-finance/3225948/eight-capital-increases-leucrotta-exploration-lxe-price-target-to-c1-60.html.
About Leucrotta Exploration
Leucrotta Exploration Inc engages in the exploration, development, and production of oil and natural gas reserves in Canada. As of April 6, 2017, the company had interests in approximately 100,500 gross acres of undeveloped land in the Dawson-Sunrise area of northeast British Columbia. Leucrotta Exploration Inc was incorporated in 2014 and is headquartered in Calgary, Canada.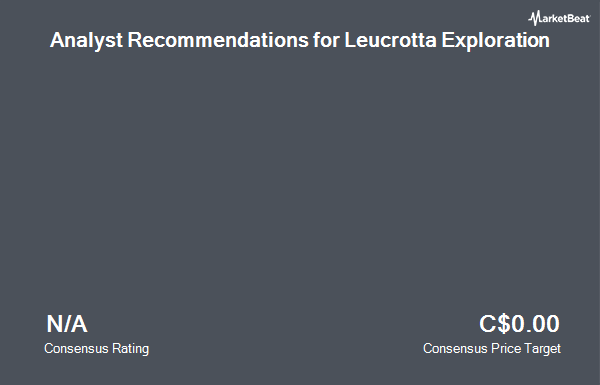 Receive News & Ratings for Leucrotta Exploration Daily - Enter your email address below to receive a concise daily summary of the latest news and analysts' ratings for Leucrotta Exploration and related companies with MarketBeat.com's FREE daily email newsletter.