Tenet Healthcare (NYSE:THC) updated its FY18 earnings guidance on Monday. The company provided earnings per share (EPS) guidance of $0.73-$1.07 for the period, compared to the Thomson Reuters consensus estimate of $0.78. The company issued revenue guidance of $17.9-$18.3 billion, compared to the consensus revenue estimate of $18.26 billion.Tenet Healthcare also updated its Q1 guidance to ($0.10)-$0.05 EPS.
A number of research analysts recently commented on the stock. Credit Suisse Group assumed coverage on shares of Tenet Healthcare in a report on Thursday, November 2nd. They issued a neutral rating and a $15.00 price target for the company. Jefferies Group set a $20.00 price target on shares of Tenet Healthcare and gave the company a buy rating in a report on Monday, October 30th. Leerink Swann reaffirmed a buy rating and issued a $27.00 price target on shares of Tenet Healthcare in a report on Wednesday, December 20th. Morgan Stanley downgraded shares of Tenet Healthcare from an equal weight rating to an underweight rating and set a $14.00 price target for the company. in a report on Wednesday, December 20th. Finally, Zacks Investment Research raised shares of Tenet Healthcare from a sell rating to a hold rating in a report on Thursday, November 9th. Five research analysts have rated the stock with a sell rating, seven have given a hold rating and five have given a buy rating to the company's stock. Tenet Healthcare currently has a consensus rating of Hold and an average target price of $18.36.
Shares of Tenet Healthcare (NYSE THC) opened at $19.07 on Tuesday. The company has a debt-to-equity ratio of 21.21, a current ratio of 1.28 and a quick ratio of 1.21. Tenet Healthcare has a 1 year low of $12.25 and a 1 year high of $22.72.
Tenet Healthcare (NYSE:THC) last posted its quarterly earnings data on Monday, February 26th. The company reported $1.40 earnings per share for the quarter, topping the Zacks' consensus estimate of $1.25 by $0.15. Tenet Healthcare had a negative net margin of 2.85% and a negative return on equity of 5.61%. The company had revenue of $4.98 billion for the quarter, compared to analyst estimates of $4.85 billion. During the same period in the prior year, the company posted $0.06 EPS. The firm's revenue for the quarter was up 2.4% on a year-over-year basis. equities analysts expect that Tenet Healthcare will post 0.69 EPS for the current year.
In other news, Director George Fredrick Smitherman acquired 125,000 shares of Tenet Healthcare stock in a transaction that occurred on Thursday, January 25th. The shares were bought at an average cost of $38.50 per share, with a total value of $4,812,500.00. Insiders sold a total of 54,600 shares of company stock worth $94,146 over the last three months. 3.10% of the stock is currently owned by corporate insiders.
ILLEGAL ACTIVITY WARNING: "Tenet Healthcare (THC) Releases FY18 Earnings Guidance" was originally published by Ticker Report and is owned by of Ticker Report. If you are viewing this piece of content on another site, it was illegally stolen and republished in violation of United States and international trademark & copyright legislation. The original version of this piece of content can be read at https://www.tickerreport.com/banking-finance/3225230/tenet-healthcare-thc-releases-fy18-earnings-guidance.html.
Tenet Healthcare Company Profile
Tenet Healthcare Corporation (Tenet) is a healthcare services company. The Company operates regionally focused, integrated healthcare delivery networks in large urban and suburban markets in the United States. The Company's segments include Hospital Operations and Other, Ambulatory Care and Conifer. As of December 31, 2016, its subsidiaries operated 79 hospitals, including three academic medical centers, two children's hospitals, two specialty hospitals and one critical access hospital.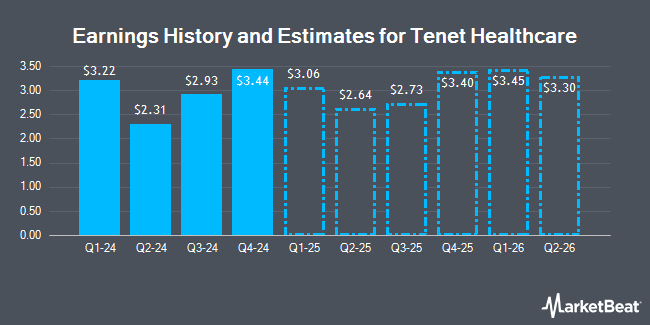 Receive News & Ratings for Tenet Healthcare Daily - Enter your email address below to receive a concise daily summary of the latest news and analysts' ratings for Tenet Healthcare and related companies with MarketBeat.com's FREE daily email newsletter.