Shares of Brighthouse Financial Inc (NASDAQ:BHF) have been assigned a consensus rating of "Hold" from the nineteen analysts that are presently covering the firm, Marketbeat.com reports. Three equities research analysts have rated the stock with a sell rating, thirteen have issued a hold rating and three have assigned a buy rating to the company. The average 12 month price target among analysts that have issued a report on the stock in the last year is $67.23.
BHF has been the subject of several recent research reports. Keefe, Bruyette & Woods reiterated a "hold" rating and issued a $63.00 price objective on shares of Brighthouse Financial in a research report on Friday. Wells Fargo & Co set a $64.00 target price on Brighthouse Financial and gave the company a "hold" rating in a report on Monday, February 12th. BidaskClub upgraded Brighthouse Financial from a "sell" rating to a "hold" rating in a report on Friday, January 12th. JPMorgan Chase & Co. downgraded Brighthouse Financial from a "neutral" rating to an "underweight" rating and set a $61.00 target price for the company. in a report on Tuesday, January 2nd. Finally, Zacks Investment Research upgraded Brighthouse Financial from a "sell" rating to a "hold" rating and set a $68.00 target price for the company in a report on Thursday, January 4th.
Shares of Brighthouse Financial (NASDAQ BHF) traded up $0.17 during mid-day trading on Friday, reaching $55.34. The company's stock had a trading volume of 803,100 shares, compared to its average volume of 934,453. The company has a quick ratio of 0.47, a current ratio of 0.47 and a debt-to-equity ratio of 0.26. Brighthouse Financial has a 12-month low of $52.75 and a 12-month high of $75.00.
Brighthouse Financial (NASDAQ:BHF) last announced its quarterly earnings data on Monday, February 12th. The company reported $0.37 earnings per share for the quarter, missing the Thomson Reuters' consensus estimate of $2.10 by ($1.73). The business had revenue of $1.88 billion during the quarter, compared to analysts' expectations of $2.01 billion. The firm's quarterly revenue was up 240.0% on a year-over-year basis. equities analysts predict that Brighthouse Financial will post 9.3 EPS for the current year.
A hedge fund recently bought a new stake in Brighthouse Financial stock. Elkfork Partners LLC acquired a new position in Brighthouse Financial Inc (NASDAQ:BHF) in the fourth quarter, according to the company in its most recent filing with the Securities & Exchange Commission. The institutional investor acquired 5,296 shares of the company's stock, valued at approximately $310,000. 80.12% of the stock is owned by institutional investors and hedge funds.
ILLEGAL ACTIVITY WARNING: This piece was posted by Ticker Report and is owned by of Ticker Report. If you are reading this piece on another website, it was copied illegally and reposted in violation of United States & international copyright and trademark legislation. The original version of this piece can be read at https://www.tickerreport.com/banking-finance/3223248/brighthouse-financial-inc-bhf-receives-67-38-consensus-target-price-from-brokerages.html.
About Brighthouse Financial
Brighthouse Financial, Inc is a provider of life insurance and annuity products in the United States. The Company offers a range of products and services, which include variable, fixed, index-linked and income annuities, as well as variable, universal, term and whole life products. These products and services are marketed through various third party retail distribution channels in the United States.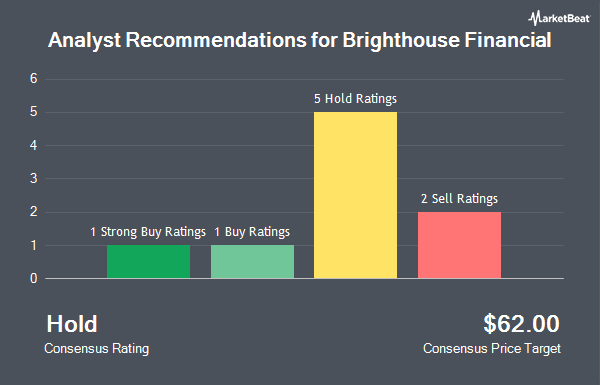 Receive News & Ratings for Brighthouse Financial Daily - Enter your email address below to receive a concise daily summary of the latest news and analysts' ratings for Brighthouse Financial and related companies with MarketBeat.com's FREE daily email newsletter.