Norbord Inc (TSE:OSB) insider Peter Cornelius Wijnbergen sold 10,000 shares of the company's stock in a transaction dated Friday, February 23rd. The stock was sold at an average price of C$44.80, for a total transaction of C$448,000.00.
Peter Cornelius Wijnbergen also recently made the following trade(s):
On Thursday, February 15th, Peter Cornelius Wijnbergen bought 10,000 shares of Norbord stock. The stock was purchased at an average price of C$9.96 per share, with a total value of C$99,600.00.
Norbord Inc (OSB) opened at C$44.95 on Monday. The stock has a market cap of $3,880.00, a P/E ratio of 7.03 and a beta of 2.06. Norbord Inc has a 1-year low of C$36.10 and a 1-year high of C$51.75.
Norbord (TSE:OSB) last posted its quarterly earnings data on Friday, February 2nd. The company reported C$1.79 earnings per share (EPS) for the quarter, beating the consensus estimate of C$1.73 by C$0.06. The business had revenue of C$756.97 million during the quarter. Norbord had a net margin of 26.85% and a return on equity of 66.95%.
The business also recently disclosed a quarterly dividend, which will be paid on Wednesday, March 21st. Stockholders of record on Thursday, March 1st will be issued a $0.60 dividend. This represents a $2.40 annualized dividend and a dividend yield of 5.34%. The ex-dividend date of this dividend is Wednesday, February 28th. Norbord's dividend payout ratio (DPR) is presently 18.17%.
Several research analysts have commented on OSB shares. CIBC decreased their target price on shares of Norbord from C$54.00 to C$50.00 in a research report on Tuesday, October 31st. Scotiabank reiterated an "outperform" rating and issued a C$55.00 price objective on shares of Norbord in a report on Monday, October 30th. TD Securities decreased their price objective on shares of Norbord to C$50.00 and set a "hold" rating for the company in a report on Tuesday, October 31st. Finally, BMO Capital Markets set a C$32.00 price objective on shares of Norbord and gave the company an "underperform" rating in a report on Friday, February 9th. One equities research analyst has rated the stock with a sell rating, two have assigned a hold rating, three have assigned a buy rating and two have issued a strong buy rating to the company's stock. The company presently has a consensus rating of "Buy" and a consensus price target of C$49.38.
ILLEGAL ACTIVITY NOTICE: "Insider Selling: Norbord Inc (OSB) Insider Sells 10,000 Shares of Stock" was first reported by Ticker Report and is the property of of Ticker Report. If you are reading this piece of content on another domain, it was stolen and reposted in violation of US & international trademark & copyright laws. The correct version of this piece of content can be viewed at https://www.tickerreport.com/banking-finance/3222815/insider-selling-norbord-inc-osb-insider-sells-10000-shares-of-stock.html.
Norbord Company Profile
Norbord Inc is a Canada-based producer of wood-based panels. The Company is engaged in manufacturing, sales, marketing and distribution of panelboards and related products used in the construction of new homes or the renovation and repair of existing structures. Its geographic segments include North America and Europe.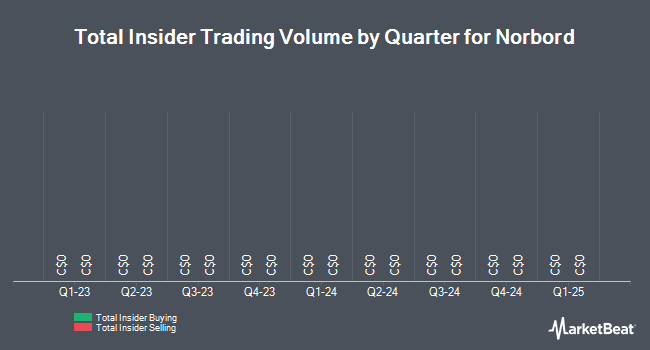 Receive News & Ratings for Norbord Daily - Enter your email address below to receive a concise daily summary of the latest news and analysts' ratings for Norbord and related companies with MarketBeat.com's FREE daily email newsletter.