Shares of Roots Corp (TSE:ROOT) have received an average rating of "Buy" from the seven research firms that are currently covering the company, Marketbeat Ratings reports. One investment analyst has rated the stock with a hold rating, five have given a buy rating and one has assigned a strong buy rating to the company. The average 12 month price objective among brokerages that have covered the stock in the last year is C$14.07.
A number of research firms have recently commented on ROOT. Royal Bank of Canada boosted their price objective on Roots from C$11.00 to C$12.00 and gave the company a "sector perform" rating in a research report on Wednesday, December 6th. TD Securities increased their price objective on Roots from C$16.00 to C$16.50 and gave the company an "action list buy" rating in a report on Wednesday, December 6th. National Bank Financial set a C$13.50 price objective on Roots and gave the company an "outperform" rating in a report on Tuesday, February 13th. Canaccord Genuity reiterated a "buy" rating and issued a C$13.00 price objective on shares of Roots in a report on Monday, November 13th. Finally, BMO Capital Markets restated an "outperform" rating and set a C$13.00 price target on shares of Roots in a research note on Monday, November 13th.
In other news, Director James Alan Gabel purchased 25,000 shares of the company's stock in a transaction that occurred on Monday, January 15th. The shares were purchased at an average price of C$11.32 per share, for a total transaction of C$283,000.00.
Shares of Roots (
ROOT
) traded down C$0.04 during trading hours on Tuesday, reaching C$11.39. The company's stock had a trading volume of 21,085 shares, compared to its average volume of 91,699. Roots has a one year low of C$8.55 and a one year high of C$12.28. The firm has a market capitalization of $478.16 and a P/E ratio of 34.52.
ILLEGAL ACTIVITY WARNING: This piece of content was published by Ticker Report and is the sole property of of Ticker Report. If you are accessing this piece of content on another site, it was illegally copied and reposted in violation of US & international copyright & trademark laws. The correct version of this piece of content can be viewed at https://www.tickerreport.com/banking-finance/3221950/brokerages-set-roots-corp-root-price-target-at-14-07.html.
Roots Company Profile
Roots Corporation, together with its subsidiaries, provides a portfolio of apparel, leather goods, accessories, and footwear for men, women, and children under the Roots brand. Its merchandise includes genuine leather, such as jackets, bags, and luggage; sweats casual apparel; kids and baby clothing; and leather furniture, linens, towels, and accessories.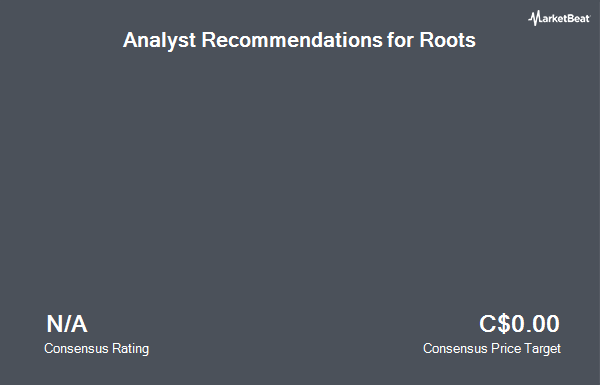 Receive News & Ratings for Roots Daily - Enter your email address below to receive a concise daily summary of the latest news and analysts' ratings for Roots and related companies with MarketBeat.com's FREE daily email newsletter.