Zacks Investment Research cut shares of BCE (NYSE:BCE) (TSE:BCE) from a buy rating to a hold rating in a research report report published on Monday.
According to Zacks, "We are impressed with BCE's decision to invest $854 million, which will boost its fiber-optics network suite and generate higher revenues by bringing in customers. Bell Canada's data center and cloud computing operations are also likely to get a boost with the integration of MTS' existing data center in Winnipeg. Buyout of Q9 Networks boosts BCE's cloud suite. Deployment of Gigabit Fibe, 4G LTE mobile networks, upcoming 5G networks, IP phone services and post-paid businesses should help the company gain customers. Over the past six months, the stock price grew 1.2% as against the industry's 1.7% loss. On the flip side, BCE continues to struggle with stringent regulatory norms, losses in network access services lines, price competition, labor union issues, operational risks and construction delays."
BCE has been the topic of several other reports. National Bank Financial raised BCE from a sector perform rating to an outperform rating in a research report on Thursday, November 2nd. Bank of America started coverage on BCE in a research report on Tuesday, November 21st. They set a buy rating and a $54.00 target price on the stock. Morgan Stanley increased their price objective on BCE from $60.00 to $62.00 and gave the company an equal weight rating in a report on Friday, November 17th. Desjardins lowered BCE from a buy rating to a hold rating in a report on Friday, January 12th. Finally, Canaccord Genuity reissued a hold rating and issued a $60.00 price objective on shares of BCE in a report on Thursday, November 2nd. Five analysts have rated the stock with a hold rating, four have assigned a buy rating and one has assigned a strong buy rating to the company's stock. BCE has an average rating of Buy and an average price target of $55.80.
BCE (
NYSE BCE
) opened at $46.49 on Monday. BCE has a 1 year low of $42.44 and a 1 year high of $49.06. The stock has a market capitalization of $41,834.29, a PE ratio of 18.90, a P/E/G ratio of 4.81 and a beta of 0.35. The company has a debt-to-equity ratio of 1.18, a quick ratio of 0.47 and a current ratio of 0.51.
BCE (NYSE:BCE) (TSE:BCE) last announced its earnings results on Thursday, November 2nd. The utilities provider reported $0.70 earnings per share (EPS) for the quarter, beating the Thomson Reuters' consensus estimate of $0.67 by $0.03. BCE had a return on equity of 20.15% and a net margin of 12.78%. equities analysts predict that BCE will post 2.66 earnings per share for the current fiscal year.
The company also recently disclosed a quarterly dividend, which was paid on Monday, January 15th. Stockholders of record on Friday, December 15th were issued a $0.558 dividend. This represents a $2.23 dividend on an annualized basis and a dividend yield of 4.80%. The ex-dividend date was Thursday, December 14th. BCE's dividend payout ratio is presently 90.65%.
Several hedge funds have recently made changes to their positions in BCE. Wealthcare Advisory Partners LLC acquired a new position in shares of BCE in the third quarter valued at about $116,000. Quantbot Technologies LP acquired a new position in shares of BCE in the third quarter valued at about $190,000. Howland Capital Management LLC acquired a new position in shares of BCE in the third quarter valued at about $202,000. Engineers Gate Manager LP acquired a new position in shares of BCE in the second quarter valued at about $203,000. Finally, WFG Advisors LP increased its holdings in shares of BCE by 0.4% in the second quarter. WFG Advisors LP now owns 4,503 shares of the utilities provider's stock valued at $203,000 after purchasing an additional 16 shares during the period. 44.51% of the stock is currently owned by institutional investors and hedge funds.
WARNING: This news story was originally posted by Ticker Report and is owned by of Ticker Report. If you are accessing this news story on another publication, it was illegally copied and republished in violation of international copyright & trademark law. The legal version of this news story can be read at https://www.tickerreport.com/banking-finance/3143788/zacks-investment-research-downgrades-bce-bce-to-hold.html.
About BCE
BCE Inc is a communications company. The Company's segments include Bell Wireless, Bell Wireline and Bell Media. Its Bell Wireless segment provides wireless voice and data communications products and services to its residential, small and medium-sized business and large enterprise customers across Canada.
Get a free copy of the Zacks research report on BCE (BCE)
For more information about research offerings from Zacks Investment Research, visit Zacks.com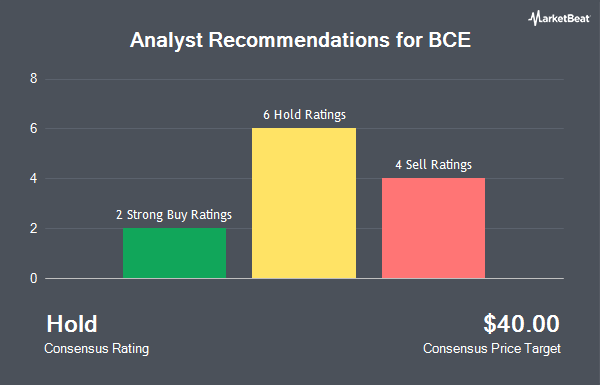 Receive News & Ratings for BCE Daily - Enter your email address below to receive a concise daily summary of the latest news and analysts' ratings for BCE and related companies with MarketBeat.com's FREE daily email newsletter.