California State Teachers Retirement System lowered its position in shares of Seaboard Corp (NYSEAMERICAN:SEB) by 9.7% in the 3rd quarter, according to its most recent Form 13F filing with the Securities and Exchange Commission. The firm owned 440 shares of the company's stock after selling 47 shares during the quarter. California State Teachers Retirement System's holdings in Seaboard were worth $1,982,000 at the end of the most recent quarter.
Seaboard Corp (NYSEAMERICAN SEB) opened at $4,260.99 on Thursday. The stock has a market capitalization of $5,010.00, a PE ratio of 15.25 and a beta of 0.91. Seaboard Corp has a 52-week low of $3,247.00 and a 52-week high of $4,690.00.
Seaboard (NYSEAMERICAN:SEB) last posted its quarterly earnings results on Wednesday, November 1st. The company reported $69.20 earnings per share (EPS) for the quarter. Seaboard had a return on equity of 9.72% and a net margin of 5.78%.
Separately, BidaskClub lowered Seaboard from a "buy" rating to a "hold" rating in a research report on Wednesday, October 18th.
In other news, SVP Ralph L. Moss sold 25 shares of Seaboard stock in a transaction dated Monday, November 20th. The stock was sold at an average price of $4,248.50, for a total value of $106,212.50. Following the completion of the transaction, the senior vice president now owns 25 shares of the company's stock, valued at approximately $106,212.50. The transaction was disclosed in a legal filing with the SEC, which is available through the SEC website.
COPYRIGHT VIOLATION WARNING: This report was originally published by Ticker Report and is the property of of Ticker Report. If you are viewing this report on another site, it was copied illegally and reposted in violation of United States and international trademark & copyright law. The original version of this report can be viewed at https://www.tickerreport.com/banking-finance/3143602/california-state-teachers-retirement-system-sells-47-shares-of-seaboard-corp-seb.html.
Seaboard Company Profile
Seaboard Corporation is an agribusiness and transportation company. The Company is primarily engaged in pork production and processing, and ocean transportation. Its divisions include Pork, Commodity Trading and Milling, Marine, Sugar, Power, Turkey and Other. Overseas, the Company is primarily engaged in commodity merchandising, grain processing, sugar production and electric power generation.
Want to see what other hedge funds are holding SEB? Visit HoldingsChannel.com to get the latest 13F filings and insider trades for Seaboard Corp (NYSEAMERICAN:SEB).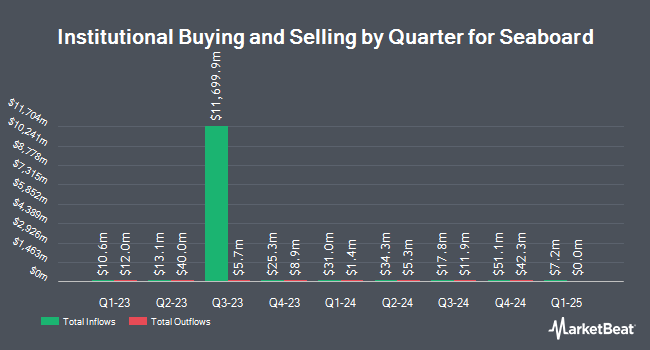 Receive News & Ratings for Seaboard Daily - Enter your email address below to receive a concise daily summary of the latest news and analysts' ratings for Seaboard and related companies with MarketBeat.com's FREE daily email newsletter.