Northern Technologies International (NASDAQ:NTIC) is set to announce its earnings results before the market opens on Thursday, January 11th.
Northern Technologies International (NASDAQ:NTIC) last issued its quarterly earnings results on Monday, November 20th. The specialty chemicals company reported $0.30 earnings per share for the quarter. The company had revenue of $10.90 million during the quarter. Northern Technologies International had a net margin of 8.65% and a return on equity of 7.06%.
Shares of Northern Technologies International (NASDAQ:NTIC) traded up $0.43 during trading hours on Friday, hitting $25.00. 13,500 shares of the stock were exchanged, compared to its average volume of 9,933. The firm has a market cap of $111.48, a price-to-earnings ratio of 32.89 and a beta of 1.41. Northern Technologies International has a 12 month low of $13.23 and a 12 month high of $26.50.
The business also recently declared a quarterly dividend, which was paid on Thursday, December 21st. Stockholders of record on Friday, December 8th were paid a $0.10 dividend. This represents a $0.40 dividend on an annualized basis and a dividend yield of 1.60%. The ex-dividend date was Thursday, December 7th. Northern Technologies International's dividend payout ratio is currently 13.16%.
An institutional investor recently raised its position in Northern Technologies International stock. Vanguard Group Inc. increased its position in shares of Northern Technologies International Corp (NASDAQ:NTIC) by 37.5% during the second quarter, according to its most recent Form 13F filing with the Securities and Exchange Commission (SEC). The firm owned 103,839 shares of the specialty chemicals company's stock after acquiring an additional 28,300 shares during the quarter. Vanguard Group Inc. owned 2.29% of Northern Technologies International worth $1,656,000 as of its most recent SEC filing. 25.00% of the stock is owned by institutional investors.
Separately, ValuEngine lowered shares of Northern Technologies International from a "buy" rating to a "hold" rating in a research note on Monday, September 18th.
COPYRIGHT VIOLATION NOTICE: "Northern Technologies International (NTIC) Set to Announce Quarterly Earnings on Thursday" was originally posted by Ticker Report and is owned by of Ticker Report. If you are accessing this piece of content on another domain, it was illegally copied and reposted in violation of U.S. & international trademark and copyright law. The legal version of this piece of content can be accessed at https://www.tickerreport.com/banking-finance/3127449/northern-technologies-international-ntic-set-to-announce-quarterly-earnings-on-thursday.html.
About Northern Technologies International
Northern Technologies International Corporation develops and markets environmentally beneficial products and services. The Company's primary business is corrosion prevention marketed mainly under ZERUST and EXCOR brands (collectively ZERUST). The Company's segments include ZERUST and Natur-Tec. The Company is engaged in selling its ZERUST products and services to the automotive, electronics, electrical, mechanical, military and retail consumer markets.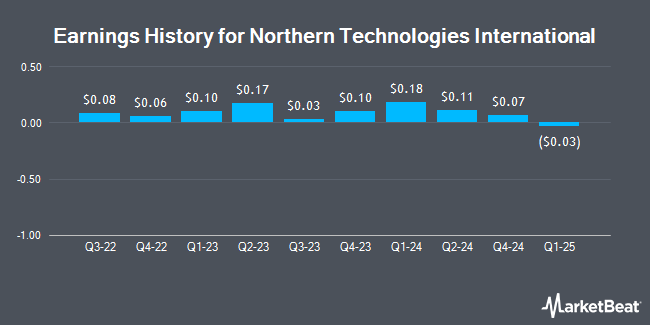 Receive News & Ratings for Northern Technologies International Daily - Enter your email address below to receive a concise daily summary of the latest news and analysts' ratings for Northern Technologies International and related companies with MarketBeat.com's FREE daily email newsletter.