Peel Hunt restated their buy rating on shares of Countryside Properties (LON:CSP) in a research note released on Thursday morning. The brokerage currently has a GBX 420 ($5.62) target price on the stock.
Several other research firms have also weighed in on CSP. JPMorgan Chase & Co. reaffirmed a neutral rating and set a GBX 335 ($4.48) price objective on shares of Countryside Properties in a report on Monday, November 27th. Numis Securities reaffirmed an add rating and set a GBX 373 ($4.99) price objective on shares of Countryside Properties in a report on Wednesday, November 22nd. Three equities research analysts have rated the stock with a hold rating and two have issued a buy rating to the company. Countryside Properties presently has a consensus rating of Hold and a consensus price target of GBX 371.40 ($4.97).
Countryside Properties (CSP) remained flat at $GBX 350 ($4.68) during trading hours on Thursday. The stock had a trading volume of 568,750 shares, compared to its average volume of 3,140,000. Countryside Properties has a 1-year low of GBX 219.92 ($2.94) and a 1-year high of GBX 372.80 ($4.98). The stock has a market cap of $1,580.00 and a price-to-earnings ratio of 1,346.15.
Countryside Properties (LON:CSP) last posted its quarterly earnings results on Wednesday, November 22nd. The company reported GBX 27.80 ($0.37) earnings per share (EPS) for the quarter, topping the Thomson Reuters' consensus estimate of GBX 27 ($0.36) by GBX 0.80 ($0.01). Countryside Properties had a net margin of 13.71% and a return on equity of 20.47%. The firm had revenue of £845.80 million during the quarter.
The company also recently disclosed a dividend, which will be paid on Friday, February 9th. Stockholders of record on Thursday, December 21st will be issued a dividend of GBX 5 ($0.07) per share. This is a positive change from Countryside Properties's previous dividend of $3.40. The ex-dividend date of this dividend is Thursday, December 21st. This represents a dividend yield of 1.4%.
In other news, insider David Howell acquired 30,000 shares of the company's stock in a transaction dated Monday, October 9th. The stock was bought at an average price of GBX 349 ($4.67) per share, with a total value of £104,700 ($139,991.98).
WARNING: This article was originally published by Ticker Report and is owned by of Ticker Report. If you are reading this article on another publication, it was copied illegally and reposted in violation of United States & international copyright and trademark legislation. The legal version of this article can be viewed at https://www.tickerreport.com/banking-finance/3127402/countryside-properties-csp-receives-buy-rating-from-peel-hunt.html.
Countryside Properties Company Profile
Countryside Properties plc (Countryside) is a United Kingdom-based housebuilder and regeneration partner, primarily operating in London and the South East of England, and with a presence in the North West of England. Countryside operates through two divisions: Housebuilding and Partnerships. The Company's Housebuilding division develops medium to larger-scale sites, providing private housing on private land, primarily around London and in the South East of England.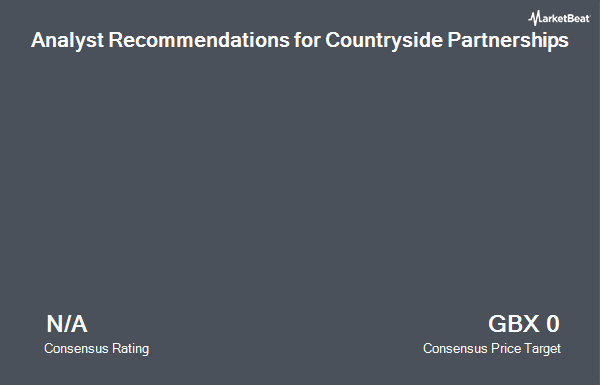 Receive News & Ratings for Countryside Properties Daily - Enter your email address below to receive a concise daily summary of the latest news and analysts' ratings for Countryside Properties and related companies with MarketBeat.com's FREE daily email newsletter.