GATX Corporation (NYSE:GATX) declared a quarterly dividend on Monday, July 31st, Wall Street Journal reports. Stockholders of record on Friday, September 15th will be paid a dividend of 0.42 per share by the transportation company on Saturday, September 30th. This represents a $1.68 dividend on an annualized basis and a dividend yield of 2.85%. The ex-dividend date is Thursday, September 14th.
GATX Corporation has a dividend payout ratio of 36.4% meaning its dividend is sufficiently covered by earnings. Equities analysts expect GATX Corporation to earn $4.19 per share next year, which means the company should continue to be able to cover its $1.68 annual dividend with an expected future payout ratio of 40.1%.
GATX Corporation (NYSE:GATX) opened at 59.01 on Wednesday. GATX Corporation has a one year low of $40.66 and a one year high of $66.30. The firm has a market capitalization of $2.28 billion, a price-to-earnings ratio of 9.95 and a beta of 1.20. The stock has a 50 day moving average price of $61.39 and a 200-day moving average price of $60.97.
GATX Corporation (NYSE:GATX) last announced its quarterly earnings results on Thursday, July 20th. The transportation company reported $1.32 earnings per share (EPS) for the quarter, topping the Zacks' consensus estimate of $1.11 by $0.21. The company had revenue of $348.40 million during the quarter, compared to the consensus estimate of $352.64 million. GATX Corporation had a return on equity of 17.83% and a net margin of 17.09%. GATX Corporation's revenue for the quarter was down 2.9% on a year-over-year basis. During the same period in the previous year, the business earned $1.49 EPS. On average, analysts predict that GATX Corporation will post $4.60 earnings per share for the current fiscal year.
In other GATX Corporation news, EVP Deborah A. Golden sold 1,368 shares of the company's stock in a transaction that occurred on Thursday, June 15th. The stock was sold at an average price of $64.46, for a total transaction of $88,181.28. Following the completion of the sale, the executive vice president now directly owns 37,083 shares of the company's stock, valued at approximately $2,390,370.18. The transaction was disclosed in a document filed with the SEC, which can be accessed through this hyperlink. 3.50% of the stock is owned by corporate insiders.
GATX has been the subject of several research reports. Zacks Investment Research raised GATX Corporation from a "hold" rating to a "buy" rating and set a $69.00 target price for the company in a report on Monday, July 24th. Citigroup Inc. reduced their target price on GATX Corporation from $73.00 to $71.00 and set a "buy" rating for the company in a report on Friday, July 21st. Cowen and Company reissued a "hold" rating and issued a $63.00 target price on shares of GATX Corporation in a report on Monday, August 28th. Stifel Nicolaus raised GATX Corporation from a "sell" rating to a "hold" rating and boosted their target price for the company from $50.00 to $54.00 in a report on Monday, July 17th. Finally, Buckingham Research initiated coverage on GATX Corporation in a report on Wednesday, June 21st. They issued a "neutral" rating and a $64.00 target price for the company. Three analysts have rated the stock with a sell rating, five have given a hold rating, two have issued a buy rating and one has given a strong buy rating to the stock. The stock presently has a consensus rating of "Hold" and an average price target of $56.00.
TRADEMARK VIOLATION NOTICE: "GATX Corporation (GATX) to Issue Quarterly Dividend of $0.42 on September 30th" was published by Ticker Report and is the property of of Ticker Report. If you are viewing this article on another site, it was illegally copied and reposted in violation of international trademark and copyright law. The legal version of this article can be accessed at https://www.tickerreport.com/banking-finance/2888768/gatx-corporation-gatx-to-issue-quarterly-dividend-of-0-42-on-september-30th.html.
About GATX Corporation
GATX Corporation is a global railcar lessor, owning fleets in North America, Europe, and Asia. In addition, the Company operates fleet of the United States-flagged vessels on the Great Lakes and jointly with Rolls-Royce plc, it owns aircraft spare engine lease portfolios in the world. It operates through four business segments: Rail North America, Rail International, American Steamship Company (ASC), and Portfolio Management.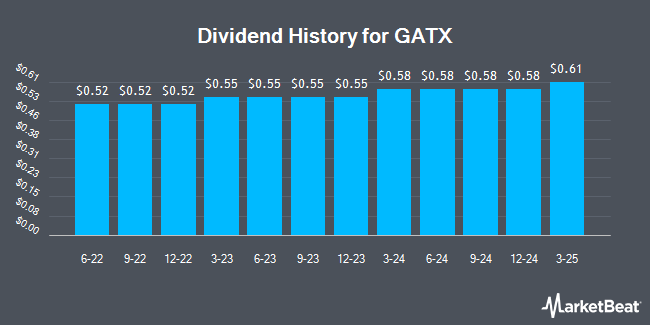 Receive News & Ratings for GATX Corporation Daily - Enter your email address below to receive a concise daily summary of the latest news and analysts' ratings for GATX Corporation and related companies with MarketBeat.com's FREE daily email newsletter.