Shares of CGI Group Inc (TSE:GIB.A) (NYSE:GIB) have been given an average recommendation of "Buy" by the fourteen research firms that are currently covering the company, Marketbeat.com reports. One research analyst has rated the stock with a sell rating, three have given a hold rating and eight have issued a buy rating on the company. The average twelve-month target price among brokerages that have issued ratings on the stock in the last year is C$72.23.
Several equities analysts have recently issued reports on GIB.A shares. National Bank Financial restated an "outperform" rating and set a C$80.00 target price on shares of CGI Group in a research report on Wednesday, August 23rd. Scotiabank cut their price objective on CGI Group from C$72.00 to C$71.00 and set an "outperform" rating on the stock in a report on Thursday, August 3rd. Finally, Eight Capital cut CGI Group from a "buy" rating to a "neutral" rating and cut their price objective for the company from C$74.00 to C$72.00 in a report on Wednesday, July 19th.
COPYRIGHT VIOLATION WARNING: This article was posted by Ticker Report and is the property of of Ticker Report. If you are reading this article on another domain, it was stolen and republished in violation of U.S. & international copyright and trademark laws. The original version of this article can be accessed at https://www.tickerreport.com/banking-finance/2887486/cgi-group-inc-gib-a-given-average-recommendation-of-buy-by-brokerages.html.
CGI Group Company Profile
CGI Group Inc (CGI), directly or through its subsidiaries, manages information technology (IT) services, as well as business process services (BPS). The Company's services include the management of IT and business functions (outsourcing), systems integration and consulting, as well as the sale of software solutions.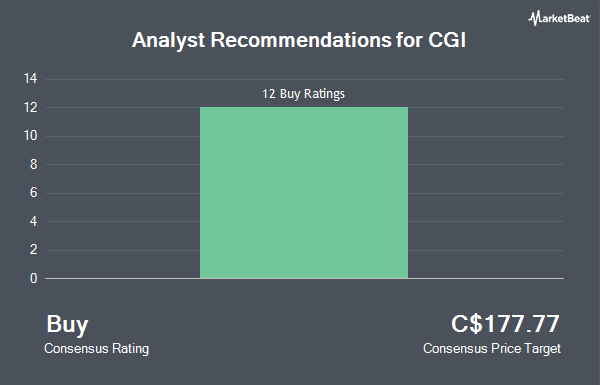 Receive News & Ratings for CGI Group Inc Daily - Enter your email address below to receive a concise daily summary of the latest news and analysts' ratings for CGI Group Inc and related companies with MarketBeat.com's FREE daily email newsletter.