Algert Global LLC maintained its stake in shares of Flexsteel Industries, Inc. (NASDAQ:FLXS) during the second quarter, Holdings Channel reports. The firm owned 12,989 shares of the company's stock at the end of the second quarter. Algert Global LLC's holdings in Flexsteel Industries were worth $703,000 as of its most recent filing with the SEC.
Shares of Flexsteel Industries, Inc. (NASDAQ:FLXS) opened at 54.07 on Friday. The firm has a 50-day moving average of $55.38 and a 200 day moving average of $52.48. Flexsteel Industries, Inc. has a 52 week low of $39.98 and a 52 week high of $62.99. The stock has a market cap of $422.56 million, a PE ratio of 17.73 and a beta of 1.97.
ILLEGAL ACTIVITY NOTICE: "Algert Global LLC Has $703,000 Position in Flexsteel Industries, Inc. (FLXS)" was originally published by Ticker Report and is owned by of Ticker Report. If you are accessing this report on another website, it was illegally copied and republished in violation of United States & international copyright & trademark legislation. The correct version of this report can be accessed at https://www.tickerreport.com/banking-finance/2802622/algert-global-llc-has-703000-position-in-flexsteel-industries-inc-flxs.html.
Separately, BidaskClub cut shares of Flexsteel Industries from a "hold" rating to a "sell" rating in a research note on Saturday, August 5th.
About Flexsteel Industries
Flexsteel Industries, Inc is a manufacturer, importer, marketer and distributor of residential and commercial upholstered and wood furniture products in the United States. The Company offers its products for contract under categories, such as hospitality, healthcare, senior living, government and commercial office.
Want to see what other hedge funds are holding FLXS? Visit HoldingsChannel.com to get the latest 13F filings and insider trades for Flexsteel Industries, Inc. (NASDAQ:FLXS).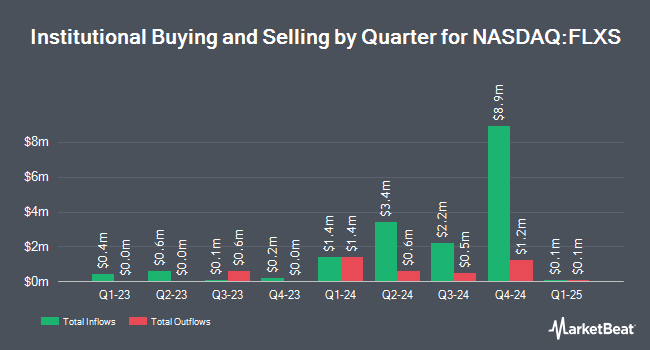 Receive News & Ratings for Flexsteel Industries Inc. Daily - Enter your email address below to receive a concise daily summary of the latest news and analysts' ratings for Flexsteel Industries Inc. and related companies with MarketBeat.com's FREE daily email newsletter.