EACO Corp (OTCMKTS:EACO) CEO Glen Ceiley sold 3,800 shares of the business's stock in a transaction that occurred on Wednesday, April 19th. The shares were sold at an average price of $7.82, for a total transaction of $29,716.00. Following the completion of the transaction, the chief executive officer now directly owns 69,582 shares of the company's stock, valued at approximately $544,131.24. The transaction was disclosed in a legal filing with the Securities & Exchange Commission, which is available through this hyperlink.
Glen Ceiley also recently made the following trade(s):
On Wednesday, January 25th, Glen Ceiley sold 1,000 shares of EACO Corp stock. The shares were sold at an average price of $7.22, for a total transaction of $7,220.00.
Shares of EACO Corp (OTCMKTS:EACO) remained flat at $7.89 during trading on Friday. The company has a 50 day moving average of $7.48 and a 200-day moving average of $6.90. EACO Corp has a 1-year low of $4.80 and a 1-year high of $8.74. The firm has a market capitalization of $38.35 million, a price-to-earnings ratio of 9.14 and a beta of -1.17.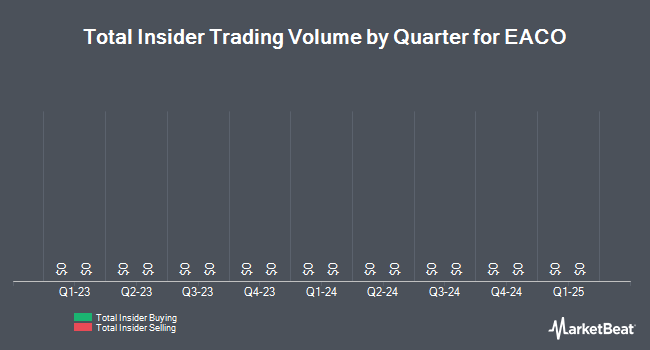 COPYRIGHT VIOLATION NOTICE: "EACO Corp (EACO) CEO Glen Ceiley Sells 3,800 Shares" was originally posted by Ticker Report and is the sole property of of Ticker Report. If you are reading this piece of content on another publication, it was stolen and republished in violation of U.S. and international copyright law. The original version of this piece of content can be viewed at https://www.tickerreport.com/banking-finance/2485711/eaco-corp-eaco-ceo-glen-ceiley-sells-3800-shares.html.
About EACO Corp
EACO Corporation (EACO) is a holding company. The Company, through its subsidiary, Bisco Industries, Inc (Bisco), is engaged in the distribution of electronic components and fasteners. The divisions of the Company include Bisco industries, National-Precision and Fast-Cor. Bisco supplies parts used in the manufacture of products in a range of industries, including the aerospace, circuit board, communication, computer, fabrication, instrumentation, industrial equipment and marine industries.
Receive News & Ratings for EACO Corp Daily - Enter your email address below to receive a concise daily summary of the latest news and analysts' ratings for EACO Corp and related companies with MarketBeat.com's FREE daily email newsletter.