Crexendo Inc (NASDAQ:CXDO) CEO Steven G. Mihaylo acquired 20,810 shares of the business's stock in a transaction dated Tuesday, October 18th. The stock was acquired at an average price of $1.40 per share, for a total transaction of $29,134.00. The acquisition was disclosed in a legal filing with the SEC, which is available through the SEC website.
Crexendo Inc (NASDAQ:CXDO) traded down 2.86% during mid-day trading on Wednesday, reaching $1.36. 2,662 shares of the company traded hands. The firm's market capitalization is $18.24 million. Crexendo Inc has a 52 week low of $1.10 and a 52 week high of $2.70. The stock's 50 day moving average price is $2.08 and its 200 day moving average price is $2.15.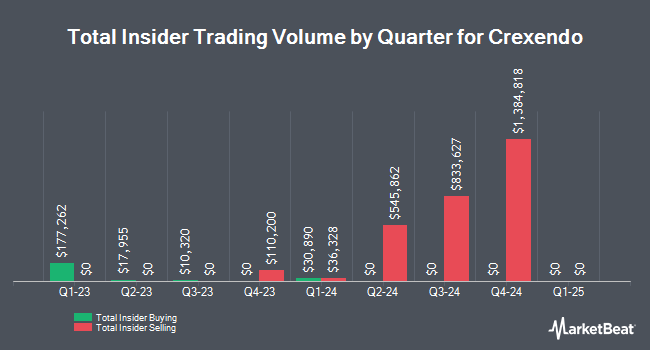 About Crexendo
Crexendo, Inc is a hosted services company. The Company provides hosted telecommunications services, broadband Internet services, Website hosting, e-commerce software and Website development software for businesses and entrepreneurs. Its services are designed to make enterprise-class hosting services available to small, medium-sized and enterprise-sized businesses.
Receive News & Ratings for Crexendo Inc Daily - Enter your email address below to receive a concise daily summary of the latest news and analysts' ratings for Crexendo Inc and related companies with MarketBeat.com's FREE daily email newsletter.