Emerald Acquisition Ltd. purchased a new stake in Sotherly Hotels Inc. (NASDAQ:SOHO) during the second quarter, according to its most recent filing with the Securities and Exchange Commission. The firm purchased 107,300 shares of the real estate investment trust's stock, valued at approximately $605,000. Emerald Acquisition Ltd. owned 0.72% of Sotherly Hotels as of its most recent filing with the SEC.
Separately, Uniplan Investment Counsel Inc. raised its position in Sotherly Hotels by 0.3% in the first quarter. Uniplan Investment Counsel Inc. now owns 645,697 shares of the real estate investment trust's stock worth $3,319,000 after buying an additional 2,176 shares during the last quarter. Hedge funds and other institutional investors own 29.61% of the company's stock.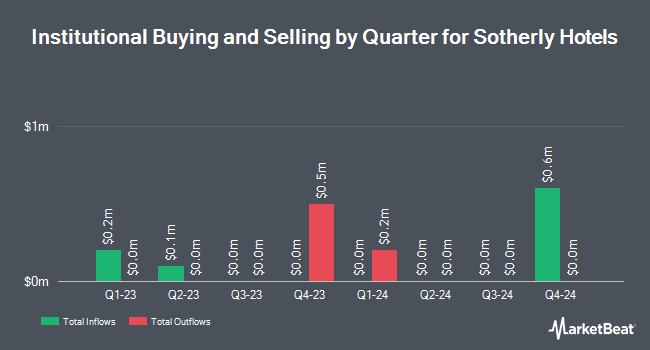 Shares of Sotherly Hotels Inc. (NASDAQ:SOHO) traded up 0.60% during mid-day trading on Monday, hitting $5.00. 9,341 shares of the stock were exchanged. The stock's 50 day moving average price is $5.44 and its 200-day moving average price is $5.48. The stock has a market capitalization of $74.75 million, a P/E ratio of 13.09 and a beta of 0.73. Sotherly Hotels Inc. has a 12-month low of $4.50 and a 12-month high of $6.73.
Sotherly Hotels (NASDAQ:SOHO) last released its earnings results on Tuesday, August 9th. The real estate investment trust reported $0.39 earnings per share for the quarter, missing analysts' consensus estimates of $0.52 by $0.13. The firm had revenue of $41.83 million for the quarter, compared to analyst estimates of $42.46 million. Sotherly Hotels had a net margin of 3.89% and a return on equity of 11.01%. On average, equities research analysts expect that Sotherly Hotels Inc. will post $1.14 EPS for the current fiscal year.
The company also recently announced a quarterly dividend, which was paid on Tuesday, October 11th. Shareholders of record on Thursday, September 15th were given a dividend of $0.095 per share. This represents a $0.38 dividend on an annualized basis and a yield of 7.65%. The ex-dividend date of this dividend was Tuesday, September 13th. This is an increase from Sotherly Hotels's previous quarterly dividend of $0.09. Sotherly Hotels's dividend payout ratio is currently 95.00%.
A number of research analysts recently issued reports on the stock. Zacks Investment Research upgraded shares of Sotherly Hotels from a "hold" rating to a "buy" rating and set a $6.00 target price on the stock in a research note on Wednesday, June 22nd. Sandler O'Neill began coverage on shares of Sotherly Hotels in a research report on Wednesday, September 28th. They issued a "hold" rating and a $6.00 price objective on the stock. One research analyst has rated the stock with a sell rating, three have assigned a hold rating and one has assigned a buy rating to the stock. The stock presently has a consensus rating of "Hold" and an average target price of $6.00.
Sotherly Hotels Company Profile
Sotherly Hotels Inc is a self-managed and self-administered lodging real estate investment trust. The Company is focused on the acquisition, renovation, upbranding and repositioning of upscale to upper-upscale full-service hotels in the southern United States. The Company operates through the hotel ownership segment.
Want to see what other hedge funds are holding SOHO? Visit HoldingsChannel.com to get the latest 13F filings and insider trades for Sotherly Hotels Inc. (NASDAQ:SOHO).
Receive News & Ratings for Sotherly Hotels Inc. Daily - Enter your email address below to receive a concise daily summary of the latest news and analysts' ratings for Sotherly Hotels Inc. and related companies with MarketBeat.com's FREE daily email newsletter.