Emis Group Plc (LON:EMIS) insider Peter Southby bought 15 shares of the business's stock in a transaction dated Thursday, October 13th. The stock was purchased at an average price of GBX 935 ($11.57) per share, for a total transaction of £140.25 ($173.58).
Shares of Emis Group Plc (LON:EMIS) opened at 926.59265 on Monday. Emis Group Plc has a 52 week low of GBX 814.50 and a 52 week high of GBX 1,225.00. The stock's market cap is GBX 581.84 million. The company has a 50-day moving average price of GBX 974.46 and a 200-day moving average price of GBX 986.90.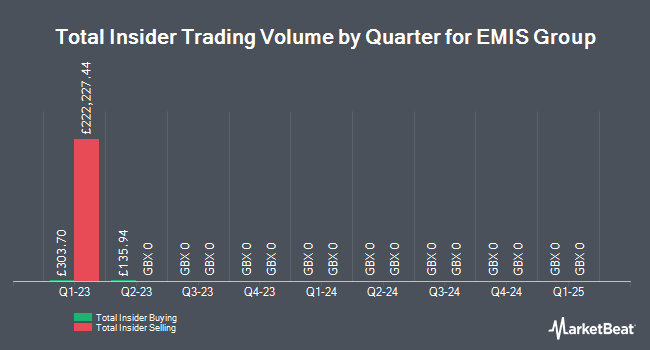 The firm also recently declared a dividend, which will be paid on Friday, October 28th. Investors of record on Thursday, September 22nd will be issued a GBX 11.70 ($0.14) dividend. The ex-dividend date of this dividend is Thursday, September 22nd. This is a boost from Emis Group Plc's previous dividend of $10.60. This represents a yield of 1.15%.
EMIS has been the topic of several recent analyst reports. Peel Hunt restated a "buy" rating and issued a GBX 1,220 ($15.10) target price on shares of Emis Group Plc in a report on Thursday, September 15th. Numis Securities Ltd reaffirmed a "buy" rating and issued a GBX 1,250 ($15.47) price target on shares of Emis Group Plc in a research note on Friday, September 2nd.
Emis Group Plc Company Profile
EMIS Group plc is a provider of healthcare software, information technology and related services in the United Kingdom. The principal activity of the Company is the design of computer software for healthcare professionals, mainly general practitioners, community pharmacists, secondary and specialist care providers and other clinicians, together with the hosting, provision of specialist information communication technology (ICT) infrastructure and support of computer systems for healthcare professionals and other related users.
Receive News & Ratings for Emis Group Plc Daily - Enter your email address below to receive a concise daily summary of the latest news and analysts' ratings for Emis Group Plc and related companies with MarketBeat.com's FREE daily email newsletter.