WestJet Airlines Ltd. (TSE:WJA) – Equities research analysts at National Bank Financial lowered their FY2017 earnings per share estimates for WestJet Airlines in a research note issued to investors on Tuesday. National Bank Financial analyst C. Doerksen now forecasts that the brokerage will earn $2.15 per share for the year, down from their prior estimate of $2.25. National Bank Financial currently has a "Sector Perform" rating and a $26.00 target price on the stock.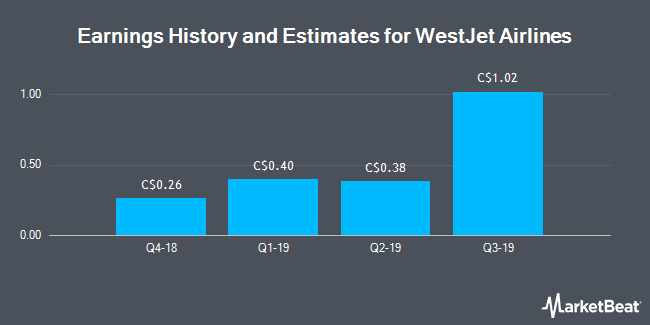 Other equities research analysts have also recently issued reports about the company. Raymond James Financial Inc. increased their price target on WestJet Airlines from C$20.50 to C$22.25 in a research note on Friday, July 22nd. AltaCorp Capital cut their price objective on WestJet Airlines from C$23.00 to C$21.00 in a report on Thursday, July 21st. TD Securities increased their price objective on WestJet Airlines from C$27.00 to C$29.00 and gave the company a "buy" rating in a report on Wednesday, July 27th. Beacon Securities raised WestJet Airlines from a "hold" rating to a "buy" rating in a report on Monday, July 11th. Finally, Canaccord Genuity initiated coverage on WestJet Airlines in a report on Tuesday, June 28th. They issued a "hold" rating and a C$21.00 price objective on the stock. Two analysts have rated the stock with a sell rating, eight have assigned a hold rating and six have given a buy rating to the company. WestJet Airlines has a consensus rating of "Hold" and an average target price of C$22.66.
WestJet Airlines (TSE:WJA) traded up 1.19% on Friday, reaching $22.89. The company had a trading volume of 149,473 shares. The stock has a market capitalization of $2.74 billion and a P/E ratio of 9.71. WestJet Airlines has a 1-year low of $14.67 and a 1-year high of $25.45. The stock's 50 day moving average is $23.33 and its 200-day moving average is $22.34.
The firm also recently disclosed a quarterly dividend, which was paid on Friday, September 30th. Stockholders of record on Friday, September 30th were given a $0.14 dividend. This represents a $0.56 dividend on an annualized basis and a dividend yield of 2.45%. The ex-dividend date of this dividend was Monday, September 12th.
About WestJet Airlines
WestJet Airlines Ltd. is a Canada-based airline company that offers airline services and vacation packages. The Company operates WestJet Vacations, which provide air, hotel, car and excursion packages, and WestJet Encore, which is a regional airline that operates a fleet of turboprop aircraft in a network of destinations in Canada and over one destination in the United States.
Receive News & Ratings for WestJet Airlines Ltd. Daily - Enter your email address below to receive a concise daily summary of the latest news and analysts' ratings for WestJet Airlines Ltd. and related companies with MarketBeat.com's FREE daily email newsletter.