New Gold Inc. (TSE:NGD) – Cormark lowered their Q3 2017 EPS estimates for New Gold in a note issued to investors on Thursday. Cormark analyst R. Gray now anticipates that the firm will post earnings per share of $0.08 for the quarter, down from their prior forecast of $0.11. Cormark also issued estimates for New Gold's Q4 2017 earnings at $0.08 EPS and FY2017 earnings at $0.25 EPS.
Other equities research analysts also recently issued research reports about the company. Royal Bank Of Canada restated a "sector perform" rating on shares of New Gold in a research report on Wednesday, June 29th. Canaccord Genuity upgraded New Gold from a "hold" rating to a "buy" rating and raised their price target for the company from C$6.25 to C$7.75 in a research report on Tuesday, July 12th. National Bank Financial raised their price target on New Gold from C$6.50 to C$7.00 in a research report on Wednesday, July 13th. Finally, Desjardins downgraded New Gold from a "buy" rating to a "hold" rating in a research report on Wednesday, September 7th. One equities research analyst has rated the stock with a sell rating, seven have issued a hold rating and four have assigned a buy rating to the company. The company presently has a consensus rating of "Hold" and a consensus target price of C$5.18.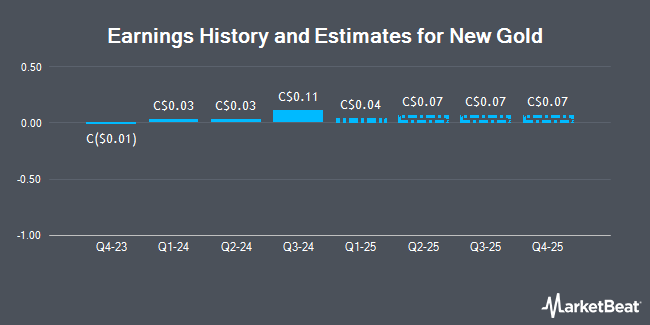 Shares of New Gold (TSE:NGD) traded down 0.78% during trading on Monday, reaching $5.08. The company's stock had a trading volume of 507,874 shares. The stock's market cap is $2.61 billion. The stock has a 50-day moving average of $6.11 and a 200-day moving average of $5.89. New Gold has a 52-week low of $2.56 and a 52-week high of $7.87.
About New Gold
New Gold Inc is a Canada-based intermediate gold mining company. The Company is engaged in the development and operation of mineral properties. The Company has operating mines in Canada, the United States, Australia and Mexico and development projects in Canada. The Company's segments include New Afton, Mesquite, Peak Mines, Cerro San Pedro, Corporate and Other.
Receive News & Ratings for New Gold Inc. Daily - Enter your email address below to receive a concise daily summary of the latest news and analysts' ratings for New Gold Inc. and related companies with MarketBeat.com's FREE daily email newsletter.