TransForce Inc (TSE:TFI) had its price target raised by Royal Bank Of Canada from C$23.00 to C$29.00 in a report issued on Friday, StockTargetPrices.com reports. They currently have a sector perform rating on the stock.
A number of other equities research analysts have also issued reports on the company. National Bank Financial increased their price target on TransForce from C$27.50 to C$29.00 in a research report on Thursday, October 6th. TD Securities increased their price objective on TransForce from C$24.00 to C$25.00 and gave the company a hold rating in a report on Monday, July 25th. Scotiabank reiterated an underperform rating and issued a C$20.50 price objective on shares of TransForce in a report on Friday, July 22nd. Finally, CIBC increased their price objective on TransForce from C$24.50 to C$26.00 in a report on Monday, June 20th. One equities research analyst has rated the stock with a sell rating, seven have issued a hold rating and two have assigned a buy rating to the company's stock. TransForce has an average rating of Hold and a consensus target price of C$26.50.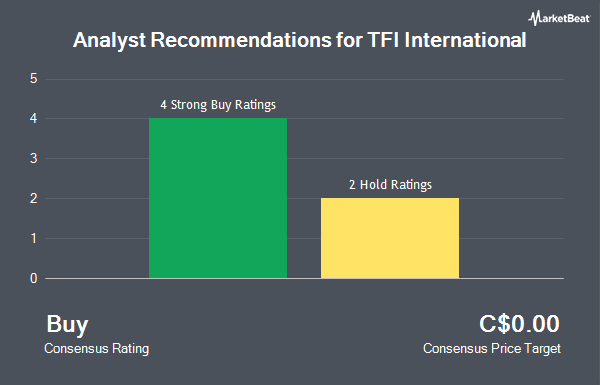 TransForce (TSE:TFI) opened at 27.46 on Friday. TransForce has a one year low of $18.94 and a one year high of $27.72. The firm has a market capitalization of $2.55 billion and a P/E ratio of 4.32. The firm has a 50-day moving average price of $26.85 and a 200-day moving average price of $24.80.
About TransForce
TransForce Inc is engaged in transportation and logistics services across Canada and the United States. The Company's segments include Package and Courier, Less-Than-Truckload, Truckload, Logistics and Corporate. The Package and Courier segment comprises pickup, transport and delivery of items across North America.

Receive News & Ratings for TransForce Inc Daily - Enter your email address below to receive a concise daily summary of the latest news and analysts' ratings for TransForce Inc and related companies with MarketBeat.com's FREE daily email newsletter.