Aehr Test Systems (NASDAQ:AEHR) insider Gayn Erickson sold 10,000 shares of the business's stock in a transaction that occurred on Friday, October 7th. The stock was sold at an average price of $2.82, for a total transaction of $28,200.00. Following the completion of the transaction, the insider now directly owns 347,694 shares of the company's stock, valued at approximately $980,497.08. The transaction was disclosed in a legal filing with the SEC, which is available through this link.
Aehr Test Systems (NASDAQ:AEHR) opened at 2.67 on Friday. The stock's market cap is $35.56 million. The firm has a 50-day moving average of $2.48 and a 200-day moving average of $1.75. Aehr Test Systems has a 1-year low of $0.95 and a 1-year high of $3.42.
Aehr Test Systems (NASDAQ:AEHR) last posted its quarterly earnings data on Thursday, September 29th. The company reported ($0.04) earnings per share (EPS) for the quarter. The business earned $5.30 million during the quarter. Aehr Test Systems had a negative return on equity of 387.82% and a negative net margin of 59.41%.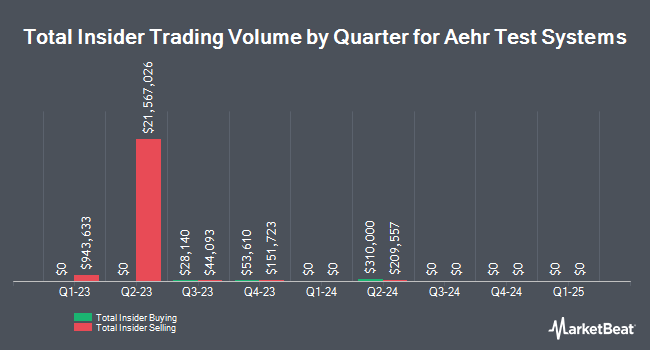 Aehr Test Systems Company Profile
Aehr Test Systems is a provider of burn-in equipment. The Company manufactures and markets full wafer contact test systems, test during burn-in systems, test fixtures, die carriers and related accessories. The Company's principal products are the Advanced Burn-In and Test System (ABTS), the FOX full wafer contact parallel test and burn-in systems, the MAX burn-in system, WaferPak full wafer contactor, the DiePak carrier and test fixtures.
Receive News & Ratings for Aehr Test Systems Daily - Enter your email address below to receive a concise daily summary of the latest news and analysts' ratings for Aehr Test Systems and related companies with MarketBeat.com's FREE daily email newsletter.