IAC/InterActiveCorp (NASDAQ:IAC) had its target price raised by equities researchers at Axiom Securities from $74.00 to $80.00 in a report released on Friday, StockTargetPrices.com reports. The firm presently has a "buy" rating on the stock. Axiom Securities' target price would suggest a potential upside of 28.78% from the company's current price.
Separately, Wells Fargo & Co. raised IAC/InterActiveCorp from a "market perform" rating to an "outperform" rating in a research note on Tuesday, September 20th. Two analysts have rated the stock with a sell rating, four have issued a hold rating and thirteen have given a buy rating to the company. The stock presently has an average rating of "Buy" and a consensus price target of $68.08.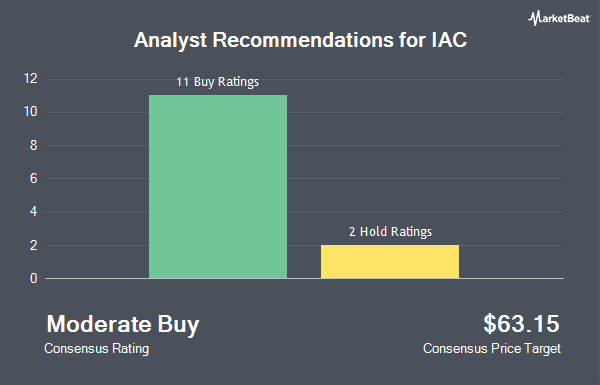 IAC/InterActiveCorp (NASDAQ:IAC) opened at 62.12 on Friday. The stock's 50 day moving average price is $59.67 and its 200 day moving average price is $55.12. The company's market capitalization is $4.94 billion. IAC/InterActiveCorp has a 12 month low of $38.82 and a 12 month high of $73.15.
About IAC/InterActiveCorp

Receive News & Ratings for IAC/InterActiveCorp Daily - Enter your email address below to receive a concise daily summary of the latest news and analysts' ratings for IAC/InterActiveCorp and related companies with MarketBeat.com's FREE daily email newsletter.