Entertainment One Ltd (LON:ETO) had its target price boosted by equities researchers at Numis Securities Ltd from GBX 190 ($2.48) to GBX 215 ($2.81) in a report released on Friday. The firm currently has a "hold" rating on the stock. Numis Securities Ltd's price target suggests a potential downside of 7.69% from the company's previous close.
Several other research firms also recently commented on ETO. Canaccord Genuity downgraded Entertainment One to a "hold" rating and upped their target price for the company from GBX 225 ($2.94) to GBX 236 ($3.08) in a research report on Thursday, August 11th. Peel Hunt reiterated a "hold" rating and issued a GBX 200 ($2.61) price target on shares of Entertainment One in a research note on Wednesday, August 10th. Finally, JPMorgan Chase & Co. boosted their price target on Entertainment One from GBX 211 ($2.75) to GBX 236 ($3.08) and gave the company an "overweight" rating in a research note on Tuesday, July 12th. One equities research analyst has rated the stock with a sell rating, four have issued a hold rating and three have assigned a buy rating to the stock. Entertainment One has an average rating of "Hold" and a consensus price target of GBX 207.63 ($2.71).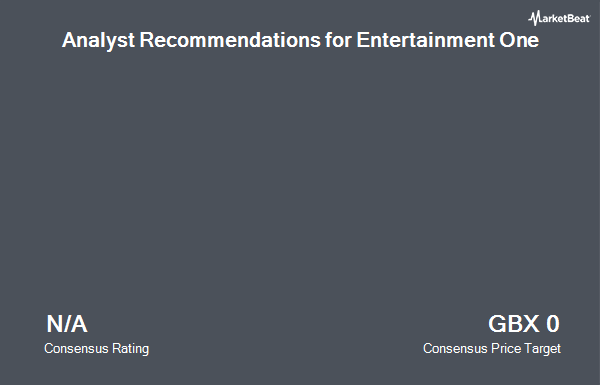 Shares of Entertainment One (LON:ETO) opened at 238.456 on Friday. Entertainment One has a 1-year low of GBX 125.40 and a 1-year high of GBX 262.50. The firm's market capitalization is GBX 1.01 billion. The stock has a 50 day moving average price of GBX 223.06 and a 200 day moving average price of GBX 190.09.
About Entertainment One
Entertainment One Ltd. is an independent entertainment company. The Company is focused on the acquisition, production and distribution of television, family, film and music content rights across all media across the world. The Company's segments include Television, Family and Film. The Television segment is engaged in the production, acquisition and exploitation of television and music content rights across all media.
Receive News & Ratings for Entertainment One Ltd Daily - Enter your email address below to receive a concise daily summary of the latest news and analysts' ratings for Entertainment One Ltd and related companies with MarketBeat.com's FREE daily email newsletter.