Petrowest Corp (TSE:PRW) – Equities research analysts at Beacon Securities decreased their FY2017 earnings estimates for shares of Petrowest Corp in a research note issued on Thursday. Beacon Securities analyst K. Wilson now forecasts that the brokerage will post earnings per share of $0.03 for the year, down from their prior forecast of $0.04.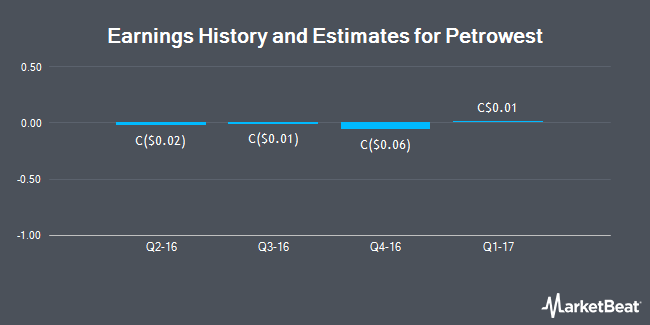 PRW has been the subject of several other research reports. National Bank Financial cut their price target on Petrowest Corp from C$0.50 to C$0.30 and set a "sector perform" rating for the company in a report on Thursday, August 11th. Canaccord Genuity cut their price target on Petrowest Corp from C$0.80 to C$0.45 in a report on Friday, August 12th. One research analyst has rated the stock with a hold rating and three have given a buy rating to the company. Petrowest Corp currently has an average rating of "Buy" and a consensus target price of C$0.69.
Shares of Petrowest Corp (TSE:PRW) traded up 7.14% on Friday, reaching $0.30. The company's stock had a trading volume of 328,335 shares. The stock's market capitalization is $63.42 million. The stock has a 50-day moving average of $0.28 and a 200 day moving average of $0.40. Petrowest Corp has a 52 week low of $0.20 and a 52 week high of $0.61.
About Petrowest Corp
Petrowest Corporation (Petrowest) provides industrial and civil infrastructure projects, as well as predrilling and post-completion energy services, gravel crushing and hauling for non-energy sector customers. The Company's businesses include rock crushing, log and gravel loading and hauling, heavy equipment transportation, safety equipment rentals and supervision, heavy equipment rentals, land clearing, earth moving and site preparation services, and the operation of a landfill to receive and manage contaminated waste.
Receive News & Ratings for Petrowest Corp Daily - Enter your email address below to receive a concise daily summary of the latest news and analysts' ratings for Petrowest Corp and related companies with MarketBeat.com's FREE daily email newsletter.