Zacks Investment Research lowered shares of E.ON SE (OTCMKTS:EONGY) from a hold rating to a sell rating in a research report sent to investors on Monday morning.
According to Zacks, "E.ON AG is the world's largest investor-owned energy service provider with operations in the following businesses: energy, chemicals, real estate, oil, telecommunications, distribution/logistics, aluminum and silicon wafers. "
A number of other research firms also recently weighed in on EONGY. Barclays PLC upgraded shares of E.ON SE from an equal weight rating to an overweight rating in a report on Thursday, June 23rd. JPMorgan Chase & Co. reiterated an overweight rating on shares of E.ON SE in a report on Tuesday, June 21st. Finally, Goldman Sachs Group Inc. downgraded shares of E.ON SE from a buy rating to a neutral rating in a report on Wednesday, September 7th. Two analysts have rated the stock with a sell rating, four have given a hold rating and four have assigned a buy rating to the company. The company has an average rating of Hold and an average target price of $11.00.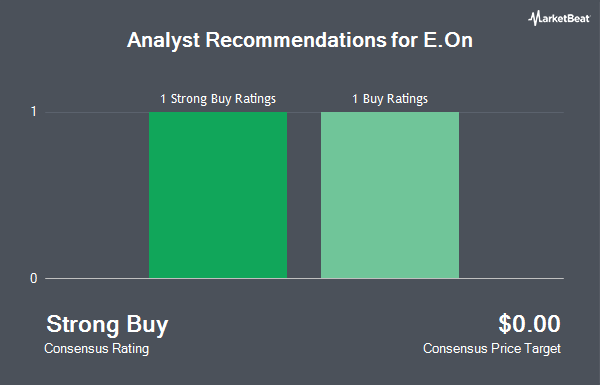 E.ON SE (OTCMKTS:EONGY) opened at 7.08 on Monday. The company's market cap is $13.82 billion. The firm's 50 day moving average is $8.82 and its 200-day moving average is $9.63. E.ON SE has a 52 week low of $6.93 and a 52 week high of $11.00.
E.ON SE Company Profile
E.ON SE is a provider of energy solutions. The Company's segments include global units and regional units. The Company's global units include Generation, which consists of the Company's conventional (fossil and nuclear) generation assets in Europe; Renewables, which includes its carbon-sourcing and renewables businesses; Global Commodities, which buys and sells electricity, natural gas, liquefied natural gas (LNG), oil, coal, freight, biomass and carbon allowances, and Exploration & Production, which includes the Company's exploration and production business in the focus regions, North Sea (the United Kingdom and Norway) and Russia.
Get a free copy of the Zacks research report on E.ON SE (EONGY)
For more information about research offerings from Zacks Investment Research, visit Zacks.com
Receive News & Ratings for E.ON SE Daily - Enter your email address below to receive a concise daily summary of the latest news and analysts' ratings for E.ON SE and related companies with MarketBeat.com's FREE daily email newsletter.