Ennis Inc. (NYSE:EBF) posted its earnings results on Tuesday. The company reported $0.35 EPS for the quarter, beating the Zacks' consensus estimate of $0.26 by $0.09. Ennis had a net margin of 1.90% and a return on equity of 12.14%. The company earned $91.20 million during the quarter.
Shares of Ennis (NYSE:EBF) opened at 17.50 on Thursday. Ennis has a 52-week low of $15.99 and a 52-week high of $21.55. The company's 50-day moving average is $16.61 and its 200-day moving average is $18.30. The stock has a market cap of $456.10 million, a PE ratio of 46.54 and a beta of 1.11.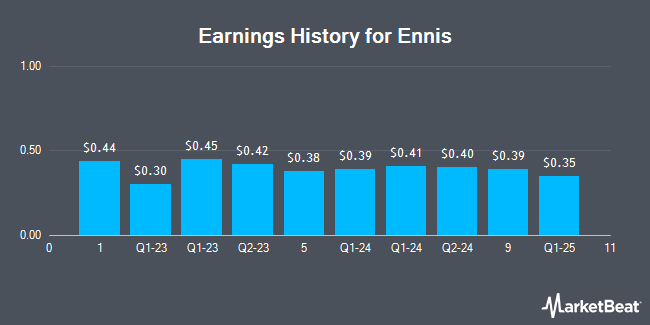 The company also recently announced a quarterly dividend, which will be paid on Monday, November 7th. Investors of record on Friday, October 14th will be given a dividend of $0.175 per share. The ex-dividend date of this dividend is Wednesday, October 12th. This represents a $0.70 dividend on an annualized basis and a yield of 4.00%. Ennis's payout ratio is 184.21%.
About Ennis
Ennis, Inc (Ennis) prints and manufactures a range of business forms and other business products and also manufactures activewear for distribution throughout North America. The Company operates in two segments: Print and Apparel. The Print Segment distributes business products and forms throughout the United States primarily through independent dealers.
Receive News & Ratings for Ennis Inc. Daily - Enter your email address below to receive a concise daily summary of the latest news and analysts' ratings for Ennis Inc. and related companies with MarketBeat.com's FREE daily email newsletter.